THE ALBUM
An oratorio for our times by Antony Pitts remixed with Biblical narration by David Suchet, Jerusalem-Yerushalayim is an extraordinary musical cross between Handel's Messiah, Bernstein's Chichester Psalms, and classic rock anthems, and tells simply but powerfully the Old Testament story of Jerusalem – in modern English but with ancient Hebrew names for familiar Biblical characters and places. Performed by TONUS PEREGRINUS and friends with a cast of outstanding singers and players.
Remastered Jubilee Edition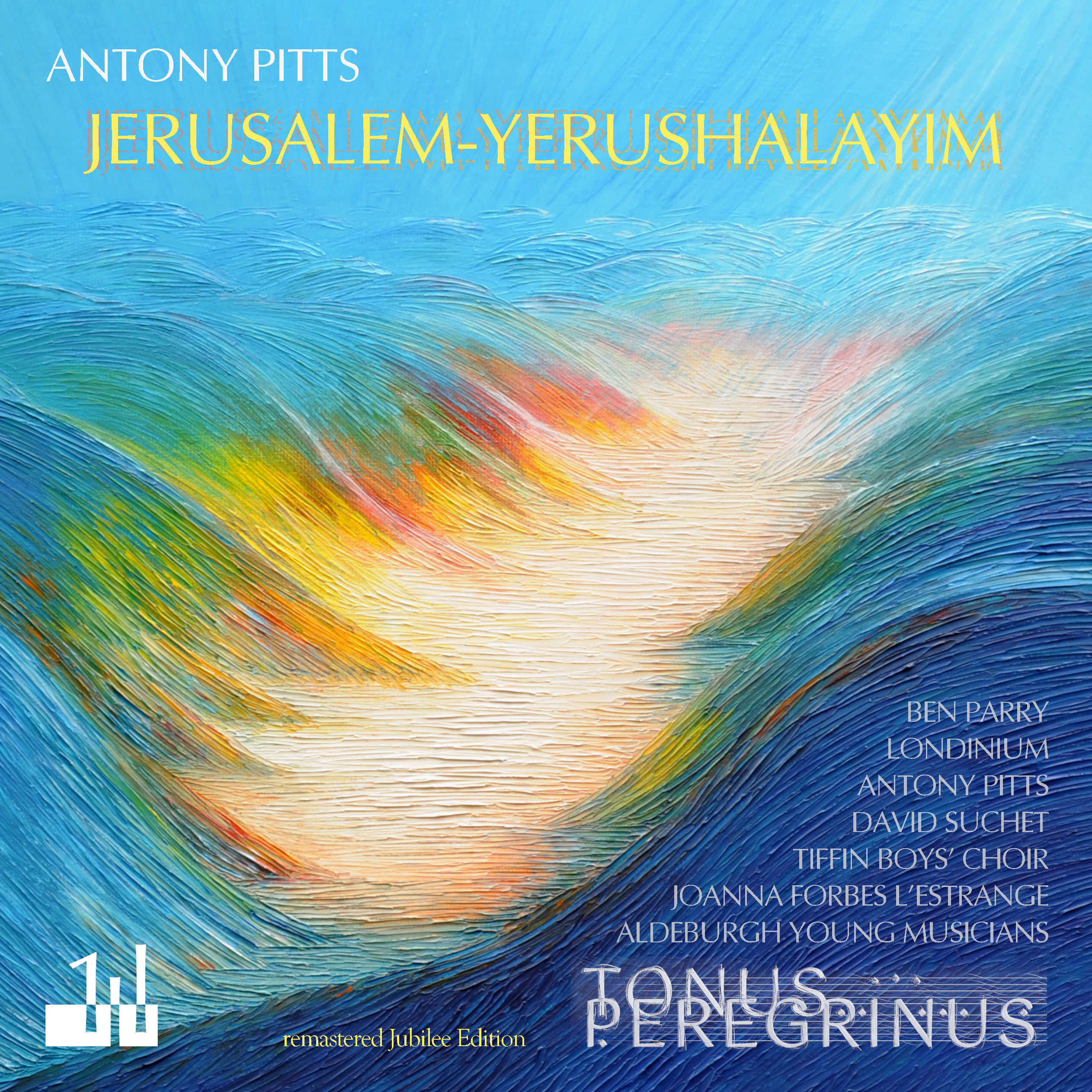 LISTEN & DOWNLOAD AT BANDCAMP
PREVIEW & DOWNLOAD AT HYPERION

SPECIAL EDITION HARDBACK PHOTOBOOK
The vocal and instrumental forces of TONUS PEREGRINUS are joined by Londinium, Tiffin Boys' Choir, and Aldeburgh Young Musicians – under the batons of Joanna Forbes L'Estrange, Ben Parry, and the composer Antony Pitts – in this world premiere recording of the oratorio-musical Jerusalem-Yerushalayim. Recorded in the Memorial Chapel at Charterhouse and originally released on 1equalmusic, the double album was remixed for digital release with narration by David Suchet and has been specially remastered in 2022 for this Jubilee Edition.
the performers
with
conducted by Joanna Forbes L'Estrange, Ben Parry, and Antony Pitts
(with Alexander L'Estrange, Jonny Gee, Matthew Dickinson)
Joanna Forbes L'Estrange – soprano (Gabriel)
Rebecca Hickey – soprano (Elijah)
Lisa Beckley – soprano (Jeremiah)
Raphael Pitts – treble (Isaac)
Edan Umrigar – treble (Jacob)
Kathryn Knight – alto (Ezekiel)
Alexander L'Estrange – countertenor (Daniel)
Robin Blaze – countertenor (Nehemiah)
Benedict Hymas – tenor (David)
Richard Eteson – tenor (Micah)
Nathan Vale – tenor (Melchizedek)
Alexander Hickey – tenor (Solomon)
Alex Knight – bass (Abraham)
Francis Brett – bass (Moses)
Nick Flower – bass (Cyrus etc.)
orchestra:
Hannah French – flute
George Parry – trumpet
Andy Williamson – saxophone (with Hylton Mowday)
Drew Balch – viola
Anna Hughes (AYM) – viola
Imogen Parry (AYM) – viola
Anneke Hodnett – harp
Paul Ayres – harmonium/organ
Antony Pitts – piano
Matthew Dickinson – percussion
Jonny Gee – electric double bass (with Alexander L'Estrange)
semichorus:
Joanna Forbes L'Estrange, Rebecca Hickey, Lisa Beckley, Jo Goldsmith-Eteson – soprano
Kathryn Knight, Fiona Clark, Geraldine Mynors, Karen Pitts – alto
Alexander L'Estrange, Robin Blaze, Christopher Field – countertenor
Richard Eteson, Benedict Hymas, Nathan Vale, Alexander Hickey, Paul French – tenor
Alex Knight, Francis Brett, Nick Flower, Jeremy Birchall – bass
chorus:
LONDINIUM
Fiona Clark, Kathy Dallas, Yvonne Light, Natasha Price, Claire Samson, Helen Statham – soprano
Andrei Caracoti, Sophie Morrison, Alison Shiers, Frances Watson – alto
Alex Bates, Will Drake, Jeremy James, Gareth Moss – tenor
Chris Lemar, Dan Miller, David Stocks, Maurice Wren – bass
with
Rosemary Pitts – soprano
Anne Webster, Helen Williams, Verity Pitts – alto
Peter Roberts, John Pitts, Duncan Knowles – bass
and
TIFFIN BOYS' CHOIR
chorus master: Simon Toyne
recorded by Daniel Halford & Richard Bland
produced by Ben Parry, Alexander L'Estrange, Antony Pitts
with Daniel Halford, Joanna Forbes L'Estrange, Richard Bland
24-29/10/2011
Memorial Chapel, Charterhouse, Godalming
originally mastered by Guy Denning and Antony Pitts at The Granary Studio, Lamberhurst and The Welcome Stranger, Flimwell
with assistance from Nick Flower, Joanna Forbes L'Estrange, Thomas Pitts, Matthew Dickinson, and Geoff Miles
remixed by the composer at The House on the Hill, East Killara
remixed/mastered by Hylton Mowday & Antony Pitts at We Love Jam, Sydney & Golden Radio, with Emma Warburton
with narration by David Suchet
Selected verses taken from the Holy Bible, New International Version ® (Anglicised), Audio Edition
(Narrated by David Suchet)
Audio Copyright ℗ 2013 by Biblica, Inc.
Used with permission. All rights reserved worldwide.
Holy Bible, New International Version ® (Anglicised), NIV ®
Copyright © 1979, 1984, 2011 by Biblica, Inc.
Used with permission. All rights reserved worldwide.
The "New International Version" is a trademark registered in the European Union Intellectual Property Office (EUIPO) and United States Patent and Trademark Office by Biblica, Inc. The "NIV", "Biblica", "International Bible Society" and the Biblica Logo are trademarks registered in the United States Patent and Trademark Office by Biblica, Inc. Used with permission.
TONUS PEREGRINUS was founded by Antony Pitts in 1990, during his studies with Dr Edward Higginbottom at New College, Oxford, to record Music for a Large Audience, and today is an established ensemble in Britain and abroad with a significant discography on Hyperion and Naxos. Acclaim in the BBC Music Magazine, Fanfare, Gramophone, and The Telegraph speaks for itself: "utterly spellbinding", "heatedly recommended", "utterly beguiling", "gloriously sung by this superb choir", as does the prestigious Cannes Classical Award for the ensemble's debut release and No.1 album of Arvo Pärt's Passio – Editor's Choice in Gramophone, as was the Hyperion album Seven Letters and other sacred choral music. TONUS PEREGRINUS has a history of performing at extraordinary occasions such as the memorials for Alexander Litvinenko – a former audience member – and in remarkable live productions such as a semi-staged version of Le Voir Dit by Guillaume de Machaut; other innovative projects include The Naxos Book of Carols – circulated to millions of homes in the UK and available as a printed carol-book from Faber Music – and the ensemble's studio a cappella rendition of Tears for Fears's Mad World. At the core of TONUS PEREGRINUS are a dozen musicians who combine their diverse expertise to interpret a repertoire ranging from the Dark Ages to scores where the ink is still wet. This breadth is reflected in the name of the ensemble which comes from an ancient plainsong psalm tone with Jewish origins, directly linked to the Passover and the Last Supper: the tonus peregrinus chant starts on a different note in each half, hence "wandering tone" and was nicknamed tonus novissimus, the "newest". The journey continues with a new disc of Music from the Eton Choirbook – the jewel in the crown of the series of "milestones of Western Music" recorded by TONUS PEREGRINUS for Naxos – and the founding vision is as strong as ever: authentic & original.
LONDINIUM is a dynamic London-based chamber choir which particularly specializes in the performance of unusual a cappella repertoire, ranging from the Renaissance to the 21st century. Since its debut in November 2005, this versatile group has been noted for its "fine line and clear sound" and "lovely transparency of texture" (Robert Hugill, Music and Vision) and its innovative programming of rarely performed works, such as Palestrina's Missa Tu es Petrus, Liszt's Missa Choralis, Hubert Parry's Songs of Farewell, Schoenberg's Friede auf Erden and, most recently, Mäntyjärvi's Canticum Calamitatis Maritimae, Vasks' Māte Saule and Pizzetti's Requiem. Londinium has been praised for its performances of contemporary repertoire: composer Cecilia McDowall found the choir's sound "just gorgeous – both luscious and true", and Eric Whitacre commended Londinium for "One of the most beautiful performances of Sleep I have ever heard". In May 2010 Londinium featured in the Classical Brit Awards at the Royal Albert Hall as the chorus in live performances by Bryn Terfel and Rolando Villazón. The ensemble has performed at the British Library and Cliveden House, and for Special Olympics Great Britain. In May 2011 Londinium provided the music at a fabulous gala dinner for the David Shepherd Wildlife Foundation to celebrate the artist's 80th birthday. In June 2011 Londinium gave the world premiere of Jessica Curry's Perpetual Light: Requiem for an Unscorched Earth.
ALDEBURGH YOUNG MUSICIANS (AYM) is a distinctive Centre for Advanced Training (CAT) designed to realize the artistic potential of 45 exceptionally talented young musicians (8-18 years) across a wide range of music. AYM combines a bespoke curriculum for each member with a collaborative exchange of creative ideas, taught by leading performers, including many Aldeburgh alumni who they can aspire to be. Forming part of Aldeburgh Music's artistic development ladder and performance programme, AYM is shaping the musicians of tomorrow and is rapidly gaining a national reputation for pushing the boundaries of what young musicians can achieve. The young musicians rub shoulders with the professionals, working together as equals, rather than in a more traditional teacher/student setting. AYM is less about formal teaching and more about encouragement to question and experiment, using their talents to explore new ways of working, including creating new music and performing in different styles. Recent performances have included: The Royal Festival Hall and Clore Ballroom (Sound Moves - March 2010), Pumphouse, Aldeburgh Festival (June 2010), The Moller Centre, Cambridge (July 2010), the Snape Proms (August 2010), Spirit Level, Southbank Centre (March 2011) and the Spitalfields Festival (June 2011) – as part of Road to Jericho.
TIFFIN BOYS' CHOIR has been one of the few state school choirs to have been continually at the forefront of the choral music scene in Britain since its foundation in 1957. It has given the premiere performances of works by, among others, John Gardner, Christopher Brown, Elizabeth Poston, and Antony Pitts, recorded widely for the major recording companies, and undertaken frequent concerts and tours in England and abroad. The choir has worked with all the London orchestras and performs regularly with the Royal Opera. Recent engagements have included productions of Carmen (Antonio Pappano) and A Midsummer Night's Dream (Richard Hickox), Boris Godunov with the Bolshoi Opera, Hänsel und Gretel (Sir Colin Davis), also broadcast on BBC2 TV, performances of Britten's War Requiem with Antonio Pappano, a series of a cappella concerts at the Spoleto Festival and throughout Romania, Britten's Spring Symphony (LSO/ Harding) and Mahler's Third Symphony with the LSO under Gergiev and the LPO under Rozhdestvensky. The choir has made recordings of most of the orchestral repertoire that includes boys' choir. Notable releases have included Mahler's Eighth Symphony with Klaus Tennstedt, which was nominated for a Grammy Award, Il Trittico (Puccini), Werther (Massenet) and Tosca (Puccini) for EMI and Antonio Pappano, Billy Budd (Britten) with the LSO and Richard Hickox, Mahler's Third Symphony with the Philharmonia and Benjamin Zander, and Britten's War Requiem with the LPO and Kurt Masur. Recent releases include Mahler 3 (LSO/Gergiev), Carmina Burana (LSO/Hickox) and Owen Wingrave (CLS/Hickox).
the tracks
1. The King of Salem A 1
PRELUDE / Leave your country / Blessed be Avram [tenor: NV – Melchizedek]
2. On Mount Moriah A 2
Fear not [bass: AK – Abram] / Avraham, take now your son [Abraham, treble: RP – Isaac] /
ADONAI Yir'eh [Abraham, Isaac, treble: EU – Jacob]
3. Blessing and Cursing A 3
I carried you on eagles' wings [bass: FB – Moses]
4. A House for the Lord A 4
DANCE / I will not go home [tenor: BH – David] / I have greatly sinned [David]
5. Called by My Name A 5
I was glad [tenor: AH – Solomon] / If My people
6. The King of Babylon and the Desolations of Jerusalem A 6
Jerusalem, return to Me! / I remember you [soprano: LB – Jeremiah] / When you were born [alto: KK – Ezekiel] / How alone! [Jeremiah]
7. Seventy 'Weeks' A 7
If I forget you, O Jerusalem [alto: ALE – Daniel] / O Lord, great God [Daniel] / Seventy 'sevens'... [soprano: JFL – Gabriel & Daniel]
8. The Walls of Jerusalem B 1
Koresh king of Persia [bass: NF – Cyrus, Darius, Artaxerxes, alto: RB – Nehemiah] / They that sow in tears
9. Hosanna! B 2
Salvation / Break into joy [soprano: RH/JFL alto: KK/ALE tenor: BH/AH/NV bass: FB/NF/AK] / INTERLUDE
10. Many days without a king B 3
Tziyon shall be ploughed under [soprano: LB alto: RB tenor: RE bass: FB] / O send out Your light and Your truth [soprano: JFL, alto: RB]
11. In the Valley of Dry Bones B 4
Can a woman's tender care [soprano: RH alto: ALE tenor: RE bass: FB] / Our bones are dry [Ezekiel] / When Israel lived in their own land / Halleluyah!
12. A House of Prayer for all people B 5
Pray for the peace of Jerusalem [soprano: RH – Elijah] / The fig tree puts forth… [soprano: RH alto: KK tenor: AH bass: AK] / See, I make Jerusalem a cup of trembling [bass: AK] / And on that day His feet shall stand / You will arise (Shout for joy!) [tenor: RE] / You who thirst [soprano: LB/JFL alto: RB/KK tenor: BH/NV bass: NF/AK] / Then shall living waters stream [soprano: JFL/RH alto: KK tenor: RE bass: FB]
The Peace of Jerusalem B 6
CODA (a cappella) [soprano: JFL/RH alto: KK/ALE tenor: RE/AH bass: FB/NF]